Friday, June 5, 2009
She's been saying this over and over again. HELP, Autumn, HELP!
Posted by

The Younger Barkers
at 3:08 PM
2 comments:


Tuesday, June 2, 2009
This kind of goes along with "YOU DID THIS TO ME YOU --BLEEP--BLEEP--" in the delivery room. :)
Babies: They're Evil
Posted by

The Younger Barkers
at 2:36 AM
1 comment:


Sunday, May 31, 2009
One of the best parts of being a SAHM is the cute pics you collect on the camera phone.
Getting ready for the pool.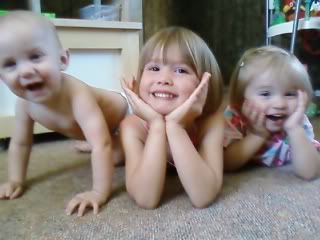 Trying on goggles
Make me melt!
Posted by

The Younger Barkers
at 8:50 PM
2 comments:


Oh what wonderful times at church. Randy's usually out the door between 6:30 and 7:00 leaving me to get the kids ready on my own. Grandma Pete has been helping whenver possible, but in general Sunday mornings are exciting than they used to be. Because I was in Cali when Randy was called to be second counselor in the branch presidency, I missed the "privilege" of speaking in front of the branch that one Sunday. Today, however, we were a speaker short and Randy "volunteered" me to bear my testimony. Oh, I just love my part in all of this! :) We got home today at 3:00 making my trip 6 hrs and Randy's 8 hrs. That puts an end to the common notion of "day of rest."
Posted by

The Younger Barkers
at 8:04 PM
1 comment: